This weekend we had B's parents over for dinner, which in my mind is a perfect time to try out a new recipe, since it will be more people than just the two of us. I'm linking back up with I Love You More Thank Carrot's That's Pintastic today too!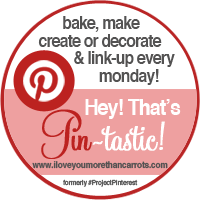 Lately, I've had this weird obsession with Buffalo everything. I have had it on salads, chicken strips, and of course wings. I wake up and I want buffalo sauce, I work out and I want it, I watch tv and I want it, and no, I'm not pregnant. Needless to say, I saw this recipe pop up on my feed and knew I must try it!
It's simple, and got rave reviews from our dinner guests and B even got seconds, which is saying a LOT! :) I actually made just a few modifications.
Buffalo Chicken Pasta
Prep Time: 25 minutes
Servings: 6-10 (I'd cut the recipe in half next time and I would still have a ton of leftovers)
1 box of bow tie noodles
5 stalks of celery
1/2 red onion (original recipe called for 1 full onion but I didn't want to go to the store)
1 rotisserie chicken – shredded
3/4 bottle of ranch (original recipe called for blue cheese but I am not a fan)
3/4 bottle of tabasco buffalo sauce
Prepare noodles as usual. When draining the water, pour cold water over your noodles to cool them down and stop them from cooking. Shred the chicken, and cut up both the onion and celery. Put them all in a big bowl and mix together. I used my (clean) hands because all the ingredients didn't fit in my bowl and it was really hard to mix.
Serve chilled. I actually like mine the day after because it seems to marinate in the seasoning and sauce and get even better with time!
Everyone said it was delicious though and it was pretty easy. I can't wait to eat it for lunch today at work! Buffalo EVERYTHING!!!
xoxo