So I'm linking up with the lovely I Love You More Than Carrots for Hey That's Pintastic! since I've now made this recipe twice, it's pretty easy and it's SO good, I have to share and because let's be honest, baking with beer is fun.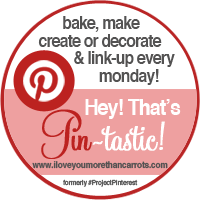 They're pretty easy to make, great for potlucks and those children's parties that you might be attending. JUST KIDDING. DON'T GIVE THESE TO KIDS… There is alcohol in them. Needless to say, I could seriously just EAT the batter, but the cupcakes come out pretty darn good too. This is the original recipe I follow. I've tried to make the frosting listed, but I just get the stuff from the can, because when I made it the first time it was REALLY runny and kind of meh.
So onto the good stuff….
ingredients for the blue moon cupcakes
3/4 cups unsalted butter, at room temperature (I soften it in the microwave)
1 3/4 cup sugar
2 1/2 cup flour
2 tsp baking powder
1/2 tsp salt
3 eggs, at room temperature
1 tsp vanilla extract
1/2 tsp orange zest
1 cup Blue Moon or Corona beer, save the rest for later!
1/4 cup milk
Orange/lime wedges and sanding sugar for garnish (I'm just not at this level, so therefore my cupcakes just get frosting…)
Preheat oven to 375 degrees and line 24 muffin tins with cupcake liners. Crack open a Blue moon to enjoy while baking.
1. In the bowl of an electric mixer, beat together the butter and sugar until light and fluffy, about 2-3 minutes.
2. While your electric mixer is mixing, in a medium-sized bowl, whisk together flour, baking powder, and salt.
3. Shave some orange zest off an orange with a grater and keep on the side. Your electric mixer should just about be done now.
4. Add eggs to mixer beating after each addition then add the vanilla and orange zest.
5. Combine milk and beer and switch off adding this mixture and the flour mixture to the butter/sugar mixture on a low speed. Start and end with the flour mixture.
6. Fill the cupcake liners 2/3 full. I put the batter into a ziplock and it's helped tremendously to get the liners full to the right spot. I used to always have explosive cupcakes or flat little cupcakes. Try not to eat all the batter leftover because I'm sure it's not good for you, but it's SO amazing.
7. Place them in the oven! Bake for 20 minutes, or until toothpick comes out clean.
When you take them out of the oven, poke holes on the tops of the cupcakes with a toothpick and brush the remainder of the beer on top of the cupcakes while they are still warm. I do two rounds of brushing.
Then, frost once cooled. :)
Enjoy!
xoxo